ok so here's what's up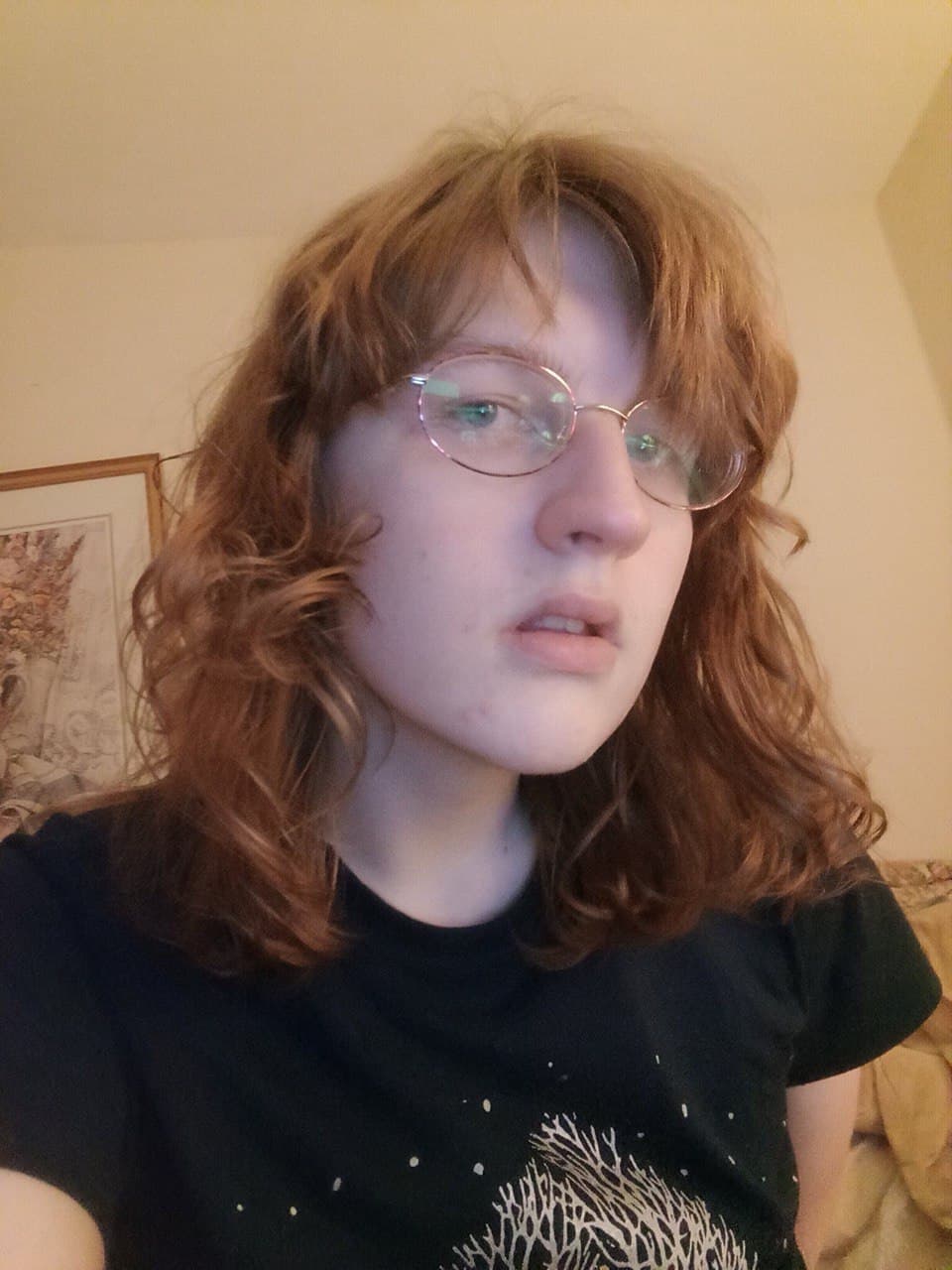 Here is an instance of Angie.
Edith Rosemary "Angie" de Salomon is just zis guy, you know?
Edith Rosemary "Angie" de Salomon is a world-famous composer, a guitarist, a drawfag, and also just a guy (female) who likes websites. Her favourite thing in the world is intervals. She is also the frontwoman of the highly-acclaimed avant-prog / new wave / whatever else band Rose with Teeth, whose other primary members are her husband and her pal Mars, and also whoever else she wants to hang out with at the moment.
Ok, dropping the act for a bit. Hi, I'm Angie! That picture of me to the left shows me in one of my favourite shirts, which is based on one of my favourite albums, On Land and in the Sea by Cardiacs, my favourite band. I like prog music, funk music, modal jazz, and classical music, especially modernist, contemporary, Renaissance, and Baroque music. I also love anime and visual novels, especially the kind that's designed to explode your brain, as well as moe. I've been using the Internet for about 17 or so years, and I'm glad to call it home.
Here are a few fun facts about me:
My favourite artists (aside from Cardiacs) are George Clinton and Parliament-Funkadelic, Talking Heads, the Fibonaccis, Fela Kuti, Manic Street Preachers, Stevie Wonder, Oingo Boingo, Už jsme doma, Ornette Coleman, Charlie Looker and his projects, Liturgy, Current 93, Psychic TV, XTC, DEVO, the Pogues, and the Mountain Goats. All have been a big influence on me.
My favourite composers include Claudio Monteverdi, Johann Sebastian Bach, Antonio Vivaldi, Béla Bartók, György Ligeti, Erik Satie, Anthony Braxton, Claude Debussy, Olivier Messiaen, Yuki Kajiura, Wolfgang Amadeus Mozart, Nikolai Kapustin, Ludwig van Beethoven, Dmitri Shostakovich, Harry Partch, Evan Ziporyn, Julius Eastman, and Julia Wolfe.
My favourite anime include Puella Magi Madoka Magica, Revolutionary Girl Utena, Serial Experiments Lain, Kaiba, The Melancholy of Haruhi Suzumiya, Neon Genesis Evangelion, Cowboy Bebop, Lucky Star, Promare, Jinrui wa Suitai Shimashita, Nichijou, and Haibane Renmei, and recently Paranoia Agent and Kodocha.
My favourite visual novels are Higurashi no Naku Koro ni (which is one of my favourite things in general!) and Subarashiki Hibi. I guess Wadanohara and the Great Blue Sea kinda counts too! (I also like Danganronpa, but don't tell.)
I have sighted non-24-hour sleep/wake cycle disorder, which is exceedingly rare. Basically, my brain thinks a day is about 26-28 hours long.

Proud of it.

My blood type is cis-AB, which means that rather than the combination of A and B alleles, my AB results from a single mutant allele. This is also exceedingly rare.
I have C-PTSD, for several reasons I won't go into right now, but it means I am a delicate flower who must be treated gently, lest I crumble like some kind of overly-shortened pastry.
I am bisexual, and proud of it.
I am a socialist, but not the kind you don't like, unless you don't like any socialists, in which case you probably don't like me. Oh, well. I'll point you to the Mises Institute in that case.
I am very interested in linguistics, and have tried (and mostly failed) multiple times to develop conlangs. One of my most recent attempts was called Kalassian, and was inspired by a sort of vision I had upon waking up one morning with the instruction to create a language that exploits Sapir-Whorf phenomena to prevent genocide by making dehumanisation unthinkable. I quickly realised that was impossible, but tried tinkering a bit with language to achieve that.
Speaking of which, I think Benjamin Whorf is underrated. So is the Middle English creole hypothesis, although there's plenty points of contention there. Tangentially, my favourite philosopher is Ludwig Wittgenstein.
You could probably describe me as a Unitarian or deist of some sort. I do believe in God, and I have something resembling a religious life, but I'm sceptical of many dogmatic approaches to faith, especially when unchecked by reason.
I am ethnically Irish and Sephardic Jewish, and also a bit Welsh and Scottish-Canadian.
I love comedy. Some of my favourite comedians have been Norm Macdonald (rip), Judy Tenuta, Neil Hamburger, Moshe Kasher, Margaret Cho, Bill Hicks, Trevor Moore (rip), Mitch Hedberg, Richard Pryor, Lewis Black, Eddie Izzard, Stewart Lee, and Andy Kaufman. I listen to the podcasts Podcast About List and Seeking Derangements (hi Hesse) rather frequently.
I also love movies. I actively maintain a Letterboxd account, which you can browse to see my opinions on them. Currently my favourites include Love Streams by John Cassavetes, Nostalghia by Andrei Tarkovsky, The Night of the Hunter by Charles Laughton, Trust by Hal Hartley, Chungking Express by Wong Kar-wai, and That Obscure Object of Desire by Luis Buñuel.
Some writers whose work I've generally adored have been Jorge Luis Borges, Greg Egan, Anton Chekhov, Peter Dale Scott, Theodor Adorno, Walter Benjamin, Kurt Vonnegut, Isaac Asimov, Harlan Ellison, Douglas Adams, Ezra Pound, Wallace Stevens, George Orwell, T. S. Eliot, James Baldwin, Dylan Thomas, Ursula K. LeGuin, and Thomas Ligotti. A few novels I've loved as of late: Too Like the Lightning by Ada Palmer, Down and Out in the Magic Kingdom by Cory Doctorow, Lolita by Vladimir Nabokov, Blood and Guts in High School by Kathy Acker, Oryx and Crake by Margaret Atwood.
A few other assorted things I like quite a bit: Professor Layton, Cruelty Squad, Adventure Time, Moral Orel, Twin Peaks, It's Always Sunny in Philadelphia, Mirror's Edge, Sam & Max, Wallace & Gromit, Homestuck, minus., Achewood.
This is my public key:
-----BEGIN PGP PUBLIC KEY BLOCK-----
Comment: Fingerprint: D8FDD38B926CDB2C4FF02CD441C6316A5FDF4A2E

mQENBFqGhegBCADM9KZiL2jeww0aK0RWcx9FGUwySpaNFXVVATd8K3Jmn+2indWB lcQ2w40/D01STL+DZDta3/5zHlW+wNRc1tWOotkS0wVv9OJTWFilQ6m1noBuaKRC TenjmoPYanJHBusvlKm8LLb4XPCdrIQb+oCrgQ9F3UbxulvlOImaf2ymJXkU9aHQ VJkZlNbJLKy2X1DCvBl2fh1hjkOm8kNgpuWmxF97CpPlD/Myn2xXVCYDyjsE+o1k NCbwXfnolAvPXp4hibknX34cT9QDiKpNLQqIc+76QJaYZLZBlRmpRUI5emQ/6I5/ n73kT9TVlJYZMBKgqJrisApJv2E3z46Ol68XABEBAAG0LEV2YW5nZWxpbmUgU3V0 aGVybGFuZCA8Z25vc3RpcXVldHRlQHR1dGEuaW8+iQFOBBMBCAA4FiEE2P3Ti5Js 2yxP8CzUQcYxal/fSi4FAlqGhegCGyMFCwkIBwIGFQoJCAsCBBYCAwECHgECF4AA CgkQQcYxal/fSi5JRggAlZT3YoonTRTmsYD2I1c11nWqazHtBLPl0+q4qcyBdWyD OVRQy/V7TMMBeKXT3Avxv/EbS8+pn+TBn22Wj+Q9xkEP2Cf9Jy2yQz3raPuCmXyB kCoyMnL9qRz2NngVo4K651K8UTollA1lZC06lQw10fuI4a89CJgPQ45Dre1DTHcy eJgXkIKNAxmKuK7mFmaTxDwuRNO5skWN49s2H3/Yy1rBKYMeswTqrcW+m1A2z8jd 9W9MJhemshG2DKyQGTw6ldGR9iaIC8D7BNycf4zEWPPBbC6PQy5c3nUlDMe2SGza 9wp4alRAv32WVI/SrBgo8X3cPzsA/IqROFs6KlxkR7kBDQRahoXoAQgA3nxLneb9 t200ZLeBngvvjbq+k94ACACo3/h06nJKd935Q69SvkFlr1ik2RhGkQPXdZAJKaeM BRH8aCfX5eOjcRAtvc05hT/lMHdvkCLCoeePJf8QkFHc29c15HaZJ2GLYcYomYvW nPyOT2Rcbgw1hIXPrCwkAjaKpbPvqrUsiIETbFxv+pxzQpflyDTTx65o5YOcEasg ojxbP1TxiluYQI7+CNylKPfvyCDwFrwUZZ6uuhovkWOjv04ascY3s6zQi+SjwOQJ UwGiR0N0hHnW2Pk+hIHdGRno6P//ejfV/ifVh+8hiEUGVF6/DSnaErEqf9Tj/0pG Oeeu9cMxWdqHYwARAQABiQE2BBgBCAAgFiEE2P3Ti5Js2yxP8CzUQvcYxal/fSi4F AlqGhegCGwwACgkQQcYxal/fSi5K0wgAl6AoTOsX8RAV0HLyrNFdWnXDEj0NP9yv x0pYbH29P/pQc6SZbrEVIF93CSgz26b3FfHkUnBLLsfWlaJlNrHKgjh7kgz8dAq5 ao/WbleZalhrv0H9F8c7++ciUuHRrh/LNE2HgrMUDX2jti57/rDFn/7EkJO4nAFm NdLxqF2HkdbuJRr+ZTixdbEtqdXaVgK48oISThbExdCFjCPLErmAEuPygsM6+fGd +yeLqslYoXJv+kgs1BCKg4/sTKawhP7DoZNmPfNZwSLbZDoi21BGJCJgpr2+PjA5 ji3r/Uco40q7Xs0PWK2SxnaqrQg1sInq8UoW7MRbHLdeRrRTEtYhZA==
=TG/E
-----END PGP PUBLIC KEY BLOCK-----